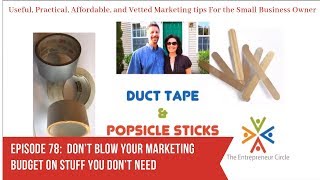 Don't Blow Your Marketing Budget on Stuff You Don't Need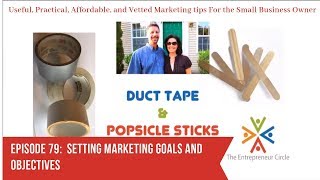 Setting Marketing Goals and Objectives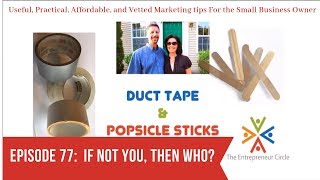 If not you, then who?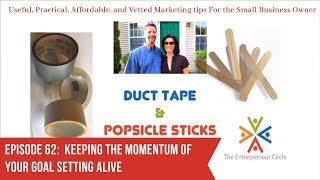 Keeping the momentum of your goal setting alive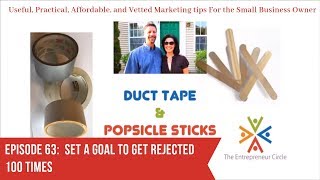 Set a goal to Get Rejected 100 Times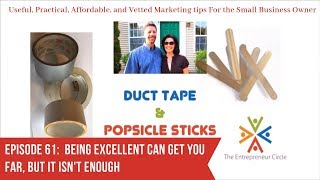 Being Excellent can get you far, but it isn't enough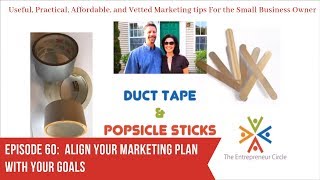 Align Your Marketing Plan With Your Goals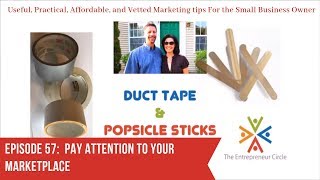 Pay Attention to Your Marketplace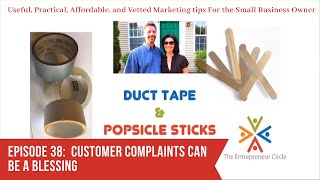 Customer Complaints can be a blessing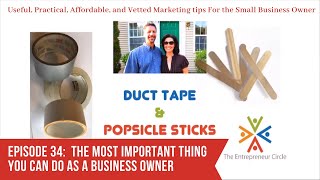 The Most Important Thing you can do as a Business Owner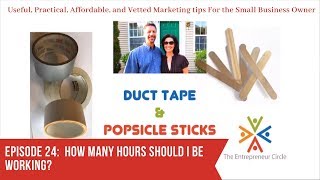 How Many Hours Should I Be Working?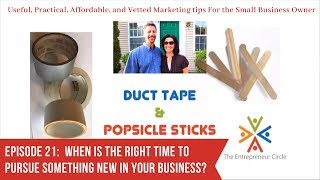 When is the right time to pursue somethng new in your business?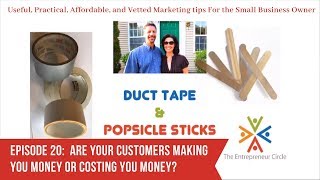 Are your customers making you money or costing you money?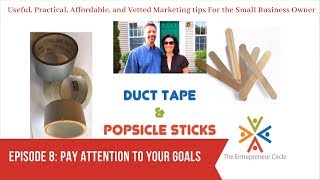 Pay Attention to Your Goals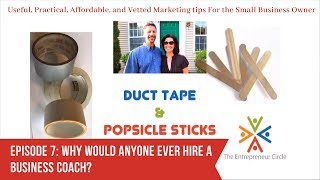 Why would anyone ever hire a business coach?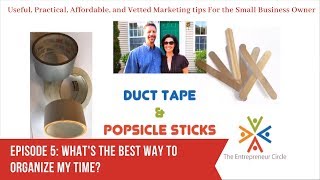 What's the best way to organize my time?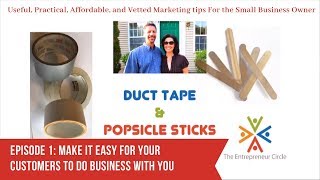 Make it easy for your customers to do business with you
Don't Blow Your Marketing Budget on Stuff You Don't Need

We've seen several recent examples of businesses buying alleged marketing products that they either didn't need or they weren't sure if they needed it. - $45,000 on TV appearances - Paid search tools - New websites These things are not necessarily bad in and of themselves but be weary of spending money on things without having a marketing plan. What should you do… - Have a marketing plan – work with an expert if you need to - Base your marketing purchases on the tools your plan calls for - Measure – monitor - Be thoughtful about your marketing purchases - Avoid shiny objects - Be willing to take risks, but have a reasonable idea if something will work or not. Find out more about Mike and Maria Keiser, The Entrepreneur Circle, and other small business solutions http://mentalcompass.com New Episodes every week. Never miss an episode Subscribe to Duct Tape and Popsicle Sticks video series https://www.youtube.com/playlist?list... New episodes Monthly Spotlight on: Real Stories by Real People https://www.youtube.com/playlist?list... Our podcast Grow your Small Business Our Podcast Grow your small business http://mentalcompass.com/grow-your-sm... Stay connected and get access to our other content designed to help Small business owners Facebook https://www.facebook.com/theentrepren... Twitter https://twitter.com/TheEcircle Linkedin https://www.linkedin.com/company/the-... E Circle Marketing is located in Manchester, Connecticut and helps small business owners solve their marketing needs.

Setting Marketing Goals and Objectives

Today we are going to discuss goal setting from a marketing perspective. As we've pointed out before, people just try things. Without a system in place to see what's working or not. It's important to start with goals and objectives (Marketing Plan). Answer the question "What are your marketing priorities?" Your priorities may include: - Increase sales - Increase profit - Grow market share - Launch new products or services - Build brand awareness - Open a new territory Once you've decided on your priorities, then work on identifying the perfect client, developing the message, and engaging the right tactics to reach them. Find out more about Mike and Maria Keiser, E Circle Marketing, and other small business marketing solutions http://mentalcompass.com New Episodes every week. Never miss an episode Subscribe to Duct Tape and Popsicle Sticks video series https://www.youtube.com/playlist?list... Our podcast Grow your Small Business Our Podcast Grow your small business http://mentalcompass.com/grow-your-sm... Stay connected and get access to our other content designed to help Small business owners Facebook https://www.facebook.com/theentrepren... Twitter https://twitter.com/TheEcircle Linkedin https://www.linkedin.com/company/the-... E Circle Marketing is located in Manchester, Connecticut and helps small business owners solve their marketing needs.

If not you, then who?

As a small business owner, publicity is usually not something you can delegate to someone else. Yes, you can hire marketing companies, and sales people, but in addition to that it's vitally important for you the business owner to get out there and tell folks about your company. - Be the promoter of your own business - It helps people get to know you and decide if they want to do business with you. - It personalizes your business to people. - It's very effective for marketing - There's rarely any better form of marketing for a small business Find out more about Mike and Maria Keiser, The Entrepreneur Circle, and other small business solutions http://mentalcompass.com New Episodes every week. Never miss an episode Subscribe to Duct Tape and Popsicle Sticks video series https://www.youtube.com/playlist?list... Our podcast Grow your Small Business Our Podcast Grow your small business http://mentalcompass.com/grow-your-sm... Stay connected and get access to our other content designed to help Small business owners Facebook https://www.facebook.com/theentrepren... Twitter https://twitter.com/TheEcircle Linkedin https://www.linkedin.com/company/the-... The Entrepreneur Circle is located in Manchester, Connecticut and helps small business owners solve their marketing needs. -~-~~-~~~-~~-~- Please watch: "Don't Blow Your Marketing Budget on Stuff You Don't Need" https://www.youtube.com/watch?v=kk4dv...

Keeping the momentum of your goal setting alive

We recently talked about aligning your goals with your marketing. Unfortunately, it's easy to get discouraged or bored with our goals when we hit a snag. Initially, they inspire us, but then they can seem daunting, or unachievable when they don't go along as smoothly as we thought they would. What should people be paying attention to? - Start by regularly looking at your goals - Based on your goals, closely examine the necessary activities a. Ongoing activities b. One-time activities - Do the activities you're engaged in align with your business and marketing goals? - Are you measuring progress? Find out more about Mike and Maria Keiser, The Entrepreneur Circle, and other small business solutions http://mentalcompass.com New Episodes every week. Never miss an episode Subscribe to Duct Tape and Popsicle Sticks video series https://www.youtube.com/playlist?list... Our podcast Grow your Small Business Our Podcast Grow your small business http://mentalcompass.com/grow-your-sm... Stay connected and get access to our other content designed to help Small business owners Facebook https://www.facebook.com/theentrepren... Twitter https://twitter.com/TheEcircle Linkedin https://www.linkedin.com/company/the-... The Entrepreneur Circle is located in Manchester, Connecticut and helps small business owners solve their marketing needs.

Set a goal to Get Rejected 100 Times

Whenever we set goals, we plan for success. Rejection can make us feel like a failure. But what if we took rejection into account when we set goals? What if we planned for it? If we only go after Yes's, we run the risk of only going after the safe bet, and limiting ourselves, and the No's will set us back. If we plan for No's, then how many Yes's will we get in the process? How many bigger and better Yes's will come our way? Find out more about Mike and Maria Keiser, The Entrepreneur Circle, and other small business solutions http://mentalcompass.com New Episodes every week. Never miss an episode Subscribe to Duct Tape and Popsicle Sticks video series https://www.youtube.com/playlist?list... Our podcast Grow your Small Business Our Podcast Grow your small business http://mentalcompass.com/grow-your-sm... Stay connected and get access to our other content designed to help Small business owners Facebook https://www.facebook.com/theentrepren... Twitter https://twitter.com/TheEcircle Linkedin https://www.linkedin.com/company/the-... The Entrepreneur Circle is located in Manchester, Connecticut and helps small business owners solve their marketing needs.

Being Excellent can get you far, but it isn't enough

The best form of marketing is being Excellent at what you do. But unfortunately, being excellent alone is not going to give you the success you desire. A big part of being excellent is to also remember to toot your own horn, and tell people about it. Excellence is being your best at what you do everyday. I can't tell you how many times I have heard someone tell me they are better than XX company, at XX, but my business is not growing the way I want it to.When you are in the weeds doing the things you are doing, we often forget to tell people about it. 1. Be excellent at what you do 2. Continue to hone your craft 3. Remember to tell people about it Find out more about Mike and Maria Keiser, The Entrepreneur Circle, and other small business solutions http://mentalcompass.com New Episodes every week. Never miss an episode Subscribe to Duct Tape and Popsicle Sticks video series https://www.youtube.com/playlist?list=PLWWnmpONTiC_xxyJXU4JlfUQZ9MI1X3HD Our podcast Grow your Small Business Our Podcast Grow your small business http://mentalcompass.com/grow-your-small-business-podcast/ Stay connected and get access to our other content designed to help Small business owners Facebook https://www.facebook.com/theentrepreneurcircle/ Twitter https://twitter.com/TheEcircle Linkedin https://www.linkedin.com/company/the-entrepreneur-circle/ The Entrepreneur Circle is located in Manchester, Connecticut and helps small business owners solve their marketing needs.

Align Your Marketing Plan With Your Goals

Tis the season for setting goals/making resolutions, etc. The new year is fraught with new possibilities. Unfortunately for many of us when we set out goals for the year the marketing is often separate and not in alignment with accomplishing their goals. When creating your goals, it's important to also consider how you are going to implement your marketing to achieve the results you desire. The marketing should be in alignment with what you are setting out to do. Here are some things you can do: - Your message needs to be specific to the people that need to receive it. - Engage in activities that attract your audience. - Respond proactively to the needs of your market. - Show people how you can solve their problems, whatever problems you solve - Don't make people feel silly for what they don't know. - Make sure there's a call to action. - The best marketing is the marketing you'll do consistently - Fluff is ok but it doesn't tell people what action to take and how you can you can help them. Find out more about Mike and Maria Keiser, The Entrepreneur Circle, and other small business solutions http://mentalcompass.com New Episodes every week. Never miss an episode Subscribe to Duct Tape and Popsicle Sticks video series https://www.youtube.com/playlist?list=PLWWnmpONTiC_xxyJXU4JlfUQZ9MI1X3HD Our podcast Grow your Small Business Our Podcast Grow your small business http://mentalcompass.com/grow-your-small-business-podcast/ Stay connected and get access to our other content designed to help Small business owners Facebook https://www.facebook.com/theentrepreneurcircle/ Twitter https://twitter.com/TheEcircle Linkedin https://www.linkedin.com/company/the-entrepreneur-circle/ The Entrepreneur Circle is located in Manchester, Connecticut and helps small business owners solve their marketing needs.

Pay Attention to Your Marketplace

Listening to your customers is a crucial component to growing your business. Recently read a story on Forbes about the company mic.com, a news aggregate site. They switched from written content entirely to video. Unfortunately, they got too progressive and have had to lay off almost all their staff due to customers leaving. We're not saying to not try new things but what we are saying is to pay attention to your marketplace Sometimes the simplest things work. - Pay attention to how your market wants to receive your service or product. - Communicate in a way that is meaningful to them. - If they are not responding to your communication, figure out why - Don't change your delivery on a whim – understand first how your market will respond. - Try new things but don't scare or confuse your market. Find out more about Mike and Maria Keiser, The Entrepreneur Circle, and other small business solutions http://mentalcompass.com New Episodes every week. Never miss an episode Subscribe to Duct Tape and Popsicle Sticks video series https://www.youtube.com/playlist?list=PLWWnmpONTiC_xxyJXU4JlfUQZ9MI1X3HD Our podcast Grow your Small Business Our Podcast Grow your small business http://mentalcompass.com/grow-your-small-business-podcast/ Stay connected and get access to our other content designed to help Small business owners Facebook https://www.facebook.com/theentrepreneurcircle/ Twitter https://twitter.com/TheEcircle Linkedin https://www.linkedin.com/company/the-entrepreneur-circle/ The Entrepreneur Circle is located in Manchester, Connecticut and helps small business owners solve their marketing needs.

Customer Complaints can be a blessing

What's the Biggest Customer Complaint About Your Business? (And How do you Address it?) We were recently speaking with a client of the Entrepreneur Circle. We asked him "what is the biggest complaint folks had had about their business?" He said that there weren't any complaints. When we pressed a little further, he admitted that there actually were a few complaints, and even said he lost some business because of them. Complaints could be about price, quality, service, you name it. But your business has complaints. How you address complaints can be a very useful marketing tool. How to use complaints to your benefit? - Don't be dismissive of people's complaints - Do everything you can to fix that problem - Address it in your marketing - Maybe the complaint is only with a certain type of customer – discuss that in your marketing - Don't hide from complaints – use them to make you better To learn more about how The Entrepreneur Circle helps small business owners go to www.mentalcompass.com

The Most Important Thing you can do as a Business Owner

Sometimes the simplest things can be the most important. Being in business is not for the faint of heart, it's showing up everyday even when you don't want to, and it's doing what you say you are going to do. We have found that the number 1 attribute of a successful business owner is the ability to keep your word. It's a simple concept "Always do what you say you are going to do". To find out more about The Entrepreneur Circle www.mentalcompass.com

How Many Hours Should I Be Working?

How Many Hours Should I Be Working? This is another topic often brought up in coaching sessions and roundtable meetings by clients of The Entrepreneur Circle. Making sure you are getting everything done is a big concern for business owners. There is always something to do, and there is sometimes a disconnect between dedication to work, family, and self. Plus, we can get mired down by what we think others are doing. In this episode, we're going to share an example of how to determine if you are in fact working enough hours. Questions to ask yourself… - What needs to be done? - What do you want to accomplish? - Is your growth satisfactory? Find out more about The Entrepreneur Circle, and other small business solutions http://mentalcompass.com

When is the right time to pursue somethng new in your business?

How do you tell the difference between a real opportunity and something shiny that will end up being an expensive distraction? This is another topic often brought up in coaching sessions and roundtable meetings by clients of The Entrepreneur Circle. Changing direction or adding a new product line, can be risky for business owners, but at the same time, you don't want to miss the boat and regret not making a move. Today's topic is not really a black & white sort of topic. It's more nuanced but we'll do our best to help you understand the best direction you should take. Our viewers have heard us talk about shiny objects and not getting lost in chasing them. But there's also sometimes a real reason to change direction or pursue something new. We have a client who's facing that situation and trying to decide how to pursue a new direction or if it's even a good idea It's a challenge sometimes to tell the difference between opportunities and shiny objects. Some key points: - Recognize that sometimes needs and goals change - Does your market place keep asking for this? - What are your clients asking for? What do they need from you? - Create a real picture/vision - Research and plan - You don't have to be drastic, change subtly - Create a strategy Find out more about The Entrepreneur Circle, and other small business solutions http://mentalcompass.com

Are your customers making you money or costing you money?

Are you charging enough for your services? This is a question we often bring up to clients in coaching sessions and roundtable meetings at The Entrepreneur Circle. We typically ask this question when looking at revenue goals of a company. It's often quite surprising to the client when they discover they are leaving money on the table. On today's show we discuss taking a look at your customer base to make sure that the customers you are spending your time on are making you money. This is not just an issue for new businesses One of our clients made a very disturbing discovery when asked to look at this. He found... - He wasn't making the kind of money he thought they should, even though they were very busy - After analysis of revenue he found that an entire segment of customers were borderline losing him money. Action: - Worked on converting those clients into a model that worked financially Result: - Some left but most stayed Find out more about The Entrepreneur Circle, and other small business solutions http://mentalcompass.com

Pay Attention to Your Goals

Today we want to talk to you about a subject that I'm sure you've talked about 100 times before. But we want to present it to you today in a way that will actually make a difference in the performance of your business. We know you've heard all about goals…stretch goals, big hairy audacious goals, call them whatever you want. And they usually don't come to pass. Today we're going to share the story of one of our clients and how she makes goals setting work very well.

Why would anyone ever hire a business coach?

I'm pretty sure nobody has ever woken up and said, I need a business coach. Often times when you meet someone that says they are a coach, you might think "you are unemployed", "you are a know it all", "I don't care, you are annoying", "who the heck would ever hire you?", or something along the lines that makes you think it's a waste of time and money or something someone else buys. The term business coach is generic. People are often surprised to find out that a coach is really someone who allows you to think out loud. Someone who helps you solve your everyday/daunting issues that make you feel isolated, frustrated, or afraid. They give you a place to talk about the things you can't talk about anywhere but need to talk about. A good coach does more than talk and listen, they will also help you find and implement the solution on your terms. Business owners need to show the persona that they are in control and have it figured out to their employees, clients, prospects, at networking events. But let's face it, sometimes you don't feel in control, sometimes you don't have the answer, and sometimes you just want someone to help you. That's why someone would hire a coach. When was the last time someone listened intently without judgement to what you had to say for an hour? Find out more about The Entrepreneur Circle, and other small business solutions http://mentalcompass.com

What's the best way to organize my time?

What's the best way to organize my time? Time Management is a frequent topic brought up in coaching sessions and roundtable meetings by clients of The Entrepreneur Circle. It's so frustrating for business owners who are just trying to grow their business and get everything done. Do you always feel like you are putting out fires? Do you have problem employees? Do you have problem clients? Do you always seem to have something come up that prevents you from getting things done? Today we want to share a powerful concept with you. It's a strategy that a lot of our clients have tried. It's a very simple concept but not always very easy to implement. But when you do try it, you feel a lot more free and productive. Actually, those that have successfully implemented "eliminating the unacceptable" report having more energy, more time, and more productivity. Find out more about The Entrepreneur Circle, and other small business solutions http://mentalcompass.com

Make it easy for your customers to do business with you

Unfortunately, we can only do so much for clients, there are times when we need them to either gather information, take an assessment, make a call, grant permission, etc…. It often leads to business owners asking the question "Why is that when I ask a prospect or client to gather information or do something, it either holds up the sale or I lose them all together?" Completing the sales cycle or getting prospects and clients to comply is a frequent topic brought up in coaching sessions and roundtable meetings by clients of The Entrepreneur Circle. This is a frustrating and deflating experience for business owners and can often make them lose confidence in themselves. This episode of Duct Tape and Popsicle Sticks will show you the importance of making it as easy as possible for your prospects/clients to do business with you. We'll share the story of how one of our clients was able to dramatically improve his percentage of closing sales simply by making the process of doing business with him much more simple and easy to follow. Find out more about The Entrepreneur Circle, and other small business solutions http://mentalcompass.com